National Parks in Rwanda – Nyungwe, Volcanoes and Akagera National Parks

National Parks in Rwanda comprise the protected Wildlife Reserves, Forest Reserves and other ecosystems in this small country in East and Central Africa. There are presently only four National Parks within the borders of this country and they include Nyungwe Forest, Volcanoes, Akagera and Gishwati-Mukura National Parks that are all managed by Rwanda Development Board.
Each of the four National Parks in Rwanda boasts of an exceptional ecosystem as well as wildlife, bird, reptile and Amphibian species. To the extreme south-eastern corner of the country bordering Burundi is Nyungwe Forest National Park, home to over 13 primate species that include chimpanzees as well as a number of birds and butterflies that can be sighted during guided forest walks.
On the border of Uganda and Democratic Republic of Congo onto which the spectacular Virunga massif sprawls is Volcanoes National Park, the country's only habitat of endangered mountain gorillas that total to about 35% of the World's total population of these Giant Apes.
At the extreme Eastern boundary of Rwanda, with Tanzania and Lake Victoria is Akagera National Park home to the majority of the country's savannah game species that include Cape buffaloes, Burchell's zebras, Masai giraffes, olive baboons, warthogs, black rhinos, leopards, gazelles, Jackson's hartebeests, Topis, Kobs and lions among others.
At the western side of Rwanda is the newest National Park known as Gishwati-Mukura known for about 6 primate species and other forest flora species.
Nyungwe Forest National Park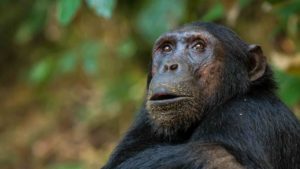 Sprawling for over 1000 square kilometers within the south-eastern side of Rwanda is Nyungwe Forest National Park, one of the oldest surviving montane forests in the African Continent. This Park teems with wildlife such as mammals totaling to 75 species including 13 primate species such as chimpanzees, L'Hoests monkeys, Angolan Colobus monkeys, red-tailed monkeys, blue monkeys and many others in addition to over 310 bird species that include forest and Albertine Rift endemic species such as Rwenzori batis, red-collared babblers, Kivu ground thrush and many others. The must-do tourist activities in this incredible National Park include chimpanzee trekking, Angolan colobus monkey tracking, bird watching, guided forest walks that introduce visitors to the mongoose, leopards, serval cats, otters, giant forest hogs alongside extraordinary tree species and several natural features like waterfalls. The thrilling canopy walk, guided walks through tea estates and cycling along the Congo-Nile Trail are the different activities to enjoy in this Park.
Volcanoes National Park
Located at the extreme north-western side of Rwanda is Volcanoes National Park, an ecosystem that protects the steep slopes of Virunga Mountains range and haven to the endangered Mountain Gorillas living in a diverse montane ecosystem (swamp, rainforest, bamboo, open grassland and heath).
This beautiful Park was established in 1925 and named after the  beautiful chain of inactive Volcanoes that make up the Virunga Mountains range including the highest (Mount Karisimbi-4507 meters above sea level), Bisoke, Muhabura, Sabyinyo and Gahinga. Trekking the stunning mountain gorillas, watching some of the 180 bird species in the Park, tracking the endangered golden monkeys, mountain biking, volcano climbing, hikes to the Dian Fossey gravesite, guided forest walks and tours of Gorilla Guardian Village are some of the activities enjoyed by visitors to Volcanoes National Park.
Akagera National Park
Akagera National Park in the Eastern part of the country, bordering Tanzania is a relatively warm area with low-lying plains with several Lakes, wetlands, savannah grasslands and woodlands. This Park is the only savannah Park in the country with options of undertaking game drives that bring visitors close to big five animals-leopards, Rhinos, lions, buffaloes and elephants in addition to Rothschild giraffes, Defassa waterbucks, warthogs, Burchell's zebras, Olive baboons, Topis, hartebeests and many others that roam in large numbers around the Park. Visitors to this Park also enjoy incredible views of over 490 bird species and reptiles especially crocodiles. Boat cruise on Lake Ihema are the highlight of Akagera Park visits with views of crocodiles and Hippos although bird watching, picnics and camping, cultural tours, helicopter tours and walking safaris are conducted.
Gishwati-Mukura National Park
The country's fourth and newest National Park is Gishwati-Mukura National Park established in 2015, comprising of two separate natural forests that include Gishwati (the larger) and Mukura (the smaller). These two forests together with the buffer zones make up about 34 square kilometers and visitors should expect to see over 60 tree species, about 6 primate species (including chimpanzees, blue monkeys, and L'Hoests monkeys among others) and over 230 bird species that include forest and Albertine Rift endemics. Activities enjoyed in this Park are bird watching, guided forest walks. Chimpanzee trekking and cultural tours.
Best time to explore the National Parks in Rwanda
National Parks in Rwanda can be explored throughout the year although the activities determine what season offers unforgettable experiences. Most Parks in the country are visited during the dry season, for instance game drives in Akagera National Park rewards visitors with endless views of animals as they converge around water points. Gorilla treks, chimpanzee treks and mountain climbing are preferred during the dry season when hiking trails and forest floors are drier, less muddy and slippery.