Chimpanzee Trekking in Nyungwe Forest – Permit costs, Price, when to book, where to stay in  Nyungwe Forest National Park and Chimp tracking guide in Rwanda
Sprawled within the south-western side of Rwanda, Nyungwe Forest is the ideal destination for trekking Chimpanzees in Rwanda. However, chimpanzee sightings are infrequently as reliable or as comprehensible and nonchalant as you will experience with mountain gorillas, given the fact that chimpanzees usually remain in thick forest, hence the experience can differ significantly. Nonetheless, the thrilling playfulness as well as human-like behavior of these Great Apes makes these treks worthwhile. The perfect opportunity of spotting these primates is when they are high in the trees before descending down to find food hence don't forget your binoculars.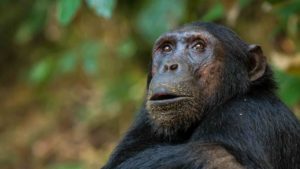 The thick canopy of tree that characterize the verdant Nyungwe Forest is haven to over 500 of these Great Apes, that live in troops of different sizes. Of these wonderful chimpanzee troops, two of them are habituated or tourist visits much as they are not quite as easy-going as the mountain gorillas. The larger of the two troops has over 100 individuals that live in the main forest with relatively rugged terrain while the second and smaller troop is made up of at least half the size of the previous one and live in the adjacent Cyamudongo forest.
How Chimpanzee trekking is done in Nyungwe Forest
Chimpanzee trekking in Nyungwe Forest begin with early wake-up (preferably before dawn), then hefty breakfast before connecting to Uwinka Park headquarters by your private safari driver/guide. On arrival, you will meet other trekkers, your trekking guide and Park Rangers then be allocated one of the two habituated Chimpanzee troops. Each of these troops is visited by a maximum of 8 persons and accompanied by an armed Ranger and expert guide, and you have a chance to hire a porter to carry your backpack as well as camera kit during the trek.
Trekkers descend down to the lush Montane rainforest with the rest of the group at about sunrise, transverse through dense vegetation, rugged terrains and valleys that are a bit hectic although the speed is slower in addition to forest being captivating. Expect plethora of birds and wildlife which will be occasionally identified by your expert guide. The total amount of time taken during the trek largely depends on the movement of the Great Apes much as trackers move ahead to locate the chimpanzees, and this lasts between half an hour and 3 hours to sight them. Once you locate the Great Apes, you will have one magical hour to watch and photograph then while maintaining a minimum distance of 8 meters. All conversations during the one hour should be done in whispers and if the Great Apes keep moving, follow them slowly before returning back to Uwinka Visitor Center then to the Lodge for refreshment.
Guidelines to be followed when trekking chimpanzees in Nyungwe Forest
Visitors need to be at least 15 years old for chimpanzee trekking in Nyungwe Forest, and this is usually enforced without compromise or flexibility.
Use of flash during photography is not permitted for Chimpanzees.
The group size (chimpanzee trekkers) should have a maximum of 8 persons only.
A maximum of one hour should be spent in the presence of Chimpanzees for observation and photography.
Littering of the forest is not permitted because rubbish act as breeding zones for germs.
Permits to trek Chimpanzees in Nyungwe Forest
Permits to trek chimpanzees in Nyungwe Forest national park cost $100 per person per trek and is issued by Rwanda Development Board, although can also be acquired through a credible Tour Operator. Just like for gorillas, permits for trekking chimpanzees have to be secured some months in advance to avoid last minute disappointments. These permits can be purchased from Uwinka or Gisakura Visitor centers but is it advisable to do it online in advance.
Things to take when trekking Chimpanzees in Nyungwe Forest
Chimpanzee trekking trails tend to be muddy and slippery during the wet months, thus sturdy waterproof boots are handy. A walking stick (provided at briefing point) is also helpful. Trekkers are also advised to wear khaki, lose-fitting and breathable clothes (long-sleeved shirts and long trousers) of neutral colors that camouflage into the natural environment that will also protect your legs and hands from the thorns and unpleasant vegetation en-route. Gardening gloves also serve the purpose and a rain jacket is handy in case unexpected downpours are experienced in the middle of the trek. A good camera is handy for taking and creating memories of the trip while a pair of binoculars is indispensable for spotting small and far attractions in the jungle.
Don't forget a lunch box because these treks sometimes last almost half a day, and also do remember to carry enough drinking water as well in addition to a snack for some extra strength. For a fee not more than $15 you will be able to hire a porter to offer support or carry your backpacks throughout the trek.
Best time for chimpanzee trekking in Nyungwe Forest
Chimpanzees trekking in Nyungwe Forest can be undertaken throughout the year, much as the terrain can be more strenuous/or hectic during the wet months of March, April, May, October and November. Majority of Chimpanzee treks in Nyungwe Forest are conducted during the drier months of January, February, June, July, August, September and December when trails are drier, not slippery/muddy.
Where to stay during Chimpanzee trekking trips in Nyungwe Forest
There are a number of places to stay while trekking chimpanzees in Nyungwe Forest and they include Uwinka Visitor Center and Campsite, One & Only Nyungwe House, Kitabi Eco center, Nyungwe Forest Lodge, Nyungwe Top Hill View Hotel, Gisakura Guesthouse and many others.